Shelly · Hutschiene · "Pro 2" · Relais · max. 25A · 2 Phasen · 2 Kanäle · WLAN · LAN · BT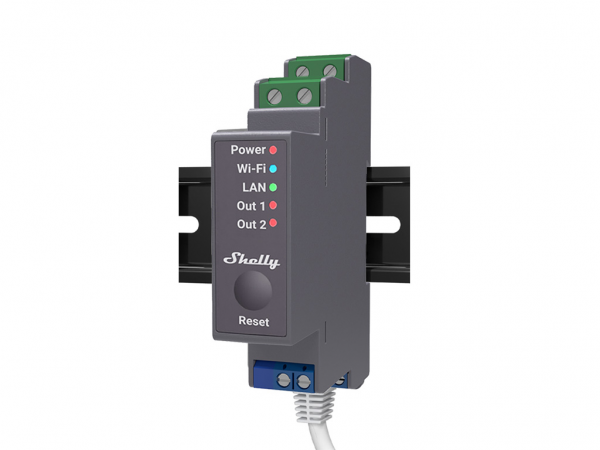 EU RoHS und REACH Erklärung


stock:

0

part no.:

206131

vendor:

Shelly

mnufacturer no.:

Shelly_Pro_2

EAN No.:

3800235268025

weight:

0.08kg

warranty:

24

months
Professional 2-channel DIN rail relay with dry contacts Suitable for home and facility...
more
Product information "Shelly · Hutschiene · "Pro 2" · Relais · max. 25A · 2 Phasen · 2 Kanäle · WLAN · LAN · BT"
Professional 2-channel DIN rail relay with dry contacts
Suitable for home and facility automation with remote control. DIN rail mountable inside a breaker box. Enhanced safety features and compatible with most used home automation platforms
LAN, Wi-Fi, and Bluetooth connection
2 output, 16A each. Total device maximum of 25A
Dry contacts
DIN rail mountable
2- phase control
Easy control through the Shelly app, various protocols, and platforms, as well as voice assistants 
WHY SHELLY PRO 2?
The best solution for new home buildings and business facilities 
Shelly Pro 2 is a two-phase, 2-channel relay supporting up to 25 A for professional lights and appliance automation for residential or commercial use. It is equipped with potential-free outputs (dry contacts) offering high flexibility in voltage support and applications. Different types of actions, scenarios, and schedules can be set to sync your environment to your daily activities or business needs. Additionally, Shelly Pro 2 has scripting functionalities for custom automation scenes based on external data or various occurrences. 
Shelly Pro series 
Enhanced with temperature, overpower, and overvoltage load protection, Shelly Pro series is designed to be installed inside the breaker box (DIN). Allowing full smart automation with no additional cables or wiring, Shelly Pro line is perfect for homes, offices, stores, business, and manufacturing facilities, as well as new buildings.
Functionalities
LAN, Wi-Fi & Bluetooth connectivity
LAN connection for high security and reliability. Simultaneous Wi-Fi and LAN usage, as back up when needed.
1 channel, 16 A 
Shelly Pro 1 has a total device output of 16A.
Dry Contacts
Use a wide range of output voltage levels. Supports low voltages. 
Low and high-voltage support 
Use it to control a wide range of AC devices and appliances. 
Enhanced safety & security 
Improved safety features and TLS 1.2 support, allowing a broad range of secure cloud-connected and local integrations. 
Scripting capabilities 
Shelly Pro 2 fully supports mjS scripting, allowing you to create further features and functionalities. 
Endless use applications
Control lights on 2 phases
Automate the lights and optimize their energy consumption through smart schedules, timers, and extended scripting functionalities. Shelly Pro 2 allows you to control the lights on 2 phases and control them separately by setting custom schedules and smart timers. Set the lights on the operational floors to switch off completely after the working day is over and switch back on only where it is necessary at 7.00 in the morning. This way, you will not have to worry about any forgotten lights or efficiency.
Automate your valves 
Use Shelly Pro 2 to control the motorized valves in your water distribution box and control heating, cooling, or any other motorized valve in your facility. This way, you can protect your premises from flooding and make your spending more efficient by using the Shelly device's built-in scheduling and scripting functionalities. Smart schedules combined with temperature & humidity sensors and precise weather data will provide dynamic control of the heating system for an optimal indoor climate.
Sockets automation for efficient energy usage
Make sure that no energy goes to waste by automating the sockets' power supply with Shelly Pro 2 and use the smart scheduling function to cut off the power to all heavy consuming electrical appliances between 7:00 PM and 7:00 AM during the weekdays and over the weekend. That way, you will cut the energy consumption of these devices in half, which will result in significant optimization of the monthly energy cost. 
Connectivity
Wi-Fi 
Working on 2.4 GHz Wi-Fi network, supporting Access Point (AP) and Client Mode (CM) options
Bluetooth 
Add devices fast and easy via Bluetooth connection, using the Shelly Cloud App
LAN
LAN connection for high security and reliability. Simultaneous Wi-Fi and LAN usage, as backup, when needed.
Safety 
Temperature protection

Overpower protection (PM devices)

Overvoltage load protection (PM devices) 

Flame Retardant (V-0)
Features
HTTP/HTTPS webhooks 

Sunrise/Sunset actions with offsets 

Weekly Scheduling

Custom scripts(mJs)

Grouping Scenes
Overheating protection
In case of unsafe temperature levels or rapid temperature increase, device switches off the outputs and sends notification. Internal temperature sensor is measuring the heat every 100 ms.
Overpower protection
Detected overpower will lead to outputs switch off by the device and it will immediately send a notification. Overpower protection feature protects the device and other electrical equipment from potential damage.

*Feature is available only for power metering-enabled devices
Overvoltage protection
Voltage peaks could be dangerous for electrical appliances and machines. To avoid damage to the electrical appliances the device switches off the outputs when overvoltage peaks are detected and immediately sends a notification. 

*Feature is available only for power metering-enabled devices
Flame Retardant (V-0)
All Shelly Pro components are produced with flame-resistant materials and will keep their construction even when exposed to high levels of heat.
Pro Series features
HTTP/HTTPS webhooks for quick connection
Enhanced with HTTP/HTTPs webhooks, Shelly Pro line can easily connect with, notify or control other compatible equipment or 3rd party automation system.
Smart actions that follow the Sunrise/Sunset
Shelly Pro line can switch on/off the power, depending on the Sunset/Sunrise hour, allowing dynamic control of the electrical equipment depending on the season.
Automation with weekly scheduling 
Shelly Pro line allows you to set up to 20 actions based on your daily or weekly schedule with no need for an external hub or server.
Scripting for custom automation
Shelly Pro line fully supports mjS scripting, allowing customers to create their own features and functionalities.
Full compatibility
Shelly devices are compatible with Alexa, Google Home, Android and iOS. Together with the voice assistant, you can command Shelly devices using just your voice! 
Specifications
POWER
Power supply AC
110-240V, 50/60Hz
Maximum load
up to 16A per channel with up to 25A for the whole device
Channels
2 Channel
SPECIAL FUNCTIONS
Roller shutter mode
No
Device temperature protection
Yes
Overload protection
No
Power measurement
No
FEATURES
HTTP/HTTPS webhooks
Yes
Custom scripts (mJs)
Yes
Operational temperature
-20°C to + 40 °C
Device power consumption
< 3 W
Intelligent On/Off
Yes
Local and remote control
Yes
Sunrise/Sunset
Yes
Weekly Schedule
Yes
UL Listed option
No
CONNECTIVITY
Wireless
Yes
Max RF output power
13.35 dBm
Wi-Fi Protocol
802.11 b/g/n
Wi-Fi Radio frequency
2412 - 2483 MHz
Wi-Fi Range
up to 50 m outdoors and up to 30 m indoors (depending on the building materials)
Bluetooth
Yes
Ethernet
Yes
DIMENSIONS
Size
18,5mm x89,5mm x 68,5mm
Related links to "Shelly · Hutschiene · "Pro 2" · Relais · max. 25A · 2 Phasen · 2 Kanäle · WLAN · LAN · BT"