ALLNET Switch full managed industrial 4 Giga PoE/2SFP
Fanless 4-port Gigabit full managed industrial PoE Layer 2+ Ethernet switch compliant with...
more
Product information "ALLNET Switch full managed industrial 4 Giga PoE/2SFP"
Fanless 4-port Gigabit full managed industrial PoE Layer 2+ Ethernet switch compliant with IEEE802.3at

Highlights:
4-Gigabit ports with PoE AF-AT support up to 30Watt per port
2x SFP ports for fiber-GBIC e.g. ALL4750/4751-INDU etc.
PoE Ports 1-4 max. PoE IEEE802.3at 30W
Layer2+ features like 802.1Q VLAN, Port Isolation IGMP, LLDP, PoE+ Management, IP source Guard, ACLs etc.
Supports Spanning Tree STP (802.1D) and RSTP (802.1W) and MSTP (802.1s)
Supports PoE management like PoE scheduling, PoE PD-alive, Port PoE Priority, Soft-Reboot PoE Non-Stop
Supports G.8032 quick ring protocol. Self-healing <20ms
Max. PoE budget = 120 watts
Fanless metal housing with optimized heat dissipation
Easy to use as a desktop, wall mount or DIN rail device
Extended temperature range from -40°C ~ +75°C
ALLNET ALL-SGI8104v2PM L2+ managed switch with 4 ports PoE is an industrial switch featuring 4-Port Gigabit 802.3af/at PoE + 2-Port Gigabit SFP optical port. It comes with an IP40 rugged case and redundant power system. The industrial managed switch provides user-friendly but advanced IPv6/IPv4 management interfaces and Soft-reboot PoE Non-stop function.It is the best investment for expanding industrial business or upgrading its network infrastructure.
Intelligent PD–Alive Check for Frozen PDs
The ALL-SGI8104v2PM industrial PoE switch 8 ports can be configured to monitor connected PD's status in real time. Once the PD stops working and responding, the ALL-SGI8104v2PM will reboot the PoE port power and bring the PD back to work. It also greatly enhances the reliability in that the PoE port will reset the PD power, thus reducing administrator's management burden.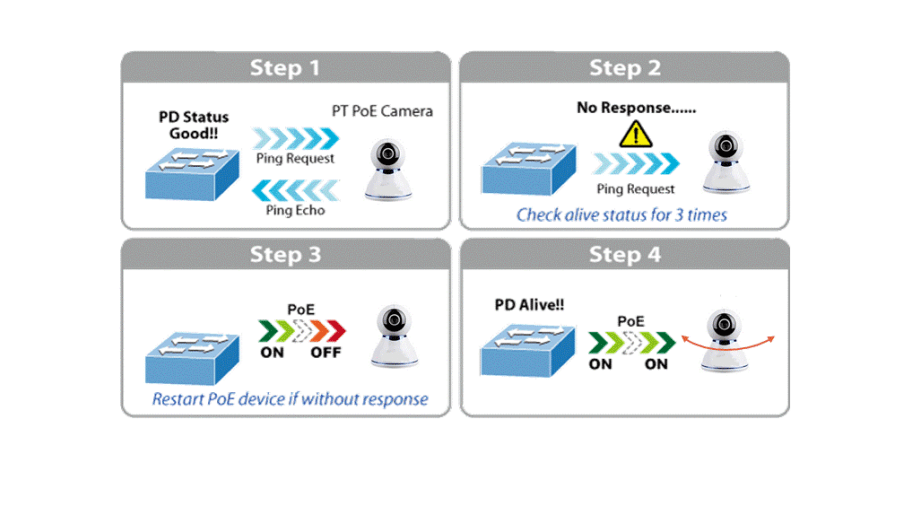 PoE Schedule Function for Energy Saving
For environmental protection purpose, the ALL-SGI8104v2PM switch Ethernet PoE can effectively control the power supply besides its capability of giving high watts power. The PoE schedule function helps to enable or disable PoE power feeding for each PoE port during specified time intervals and it is a powerful function to help SMBs or enterprises save power and money.
Scheduled PD Re-starting
The ALL-SGI8104v2PM smart switch PoE allows each of the connected PoE IP cameras or PoE wireless access points to reboot at a specific time each week. Therefore, it will reduce the chance of IP camera or AP crash resulting from buffer overflow.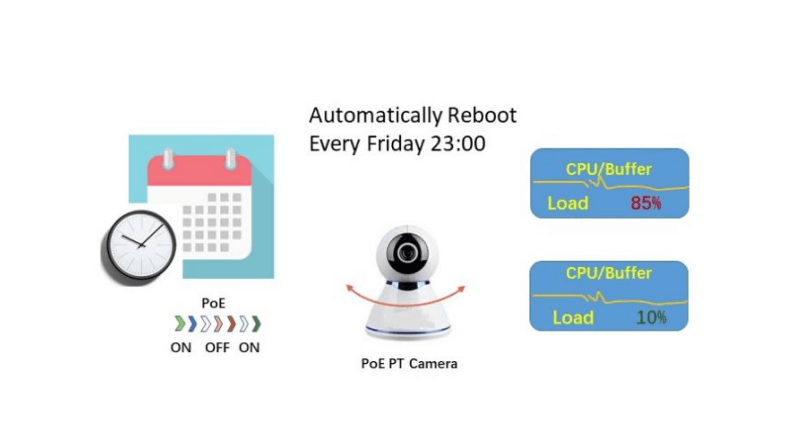 Fast Recovery Redundant Ring for Critical Network Applications
The ALL-SGI8104v2PM supports redundant ring technology and features strong, rapid self-recovery capability to prevent interruptions and external intrusions. It incorporates advanced ITU-T G.8032 ERPS technology, Spanning Tree Protocol (802.1s MSTP), and redundant power input system into customer's industrial automation network to enhance system reliability and uptime in harsh factory environments. In a certain simple Ring network, the recovery time of data link can be as fast as 20ms.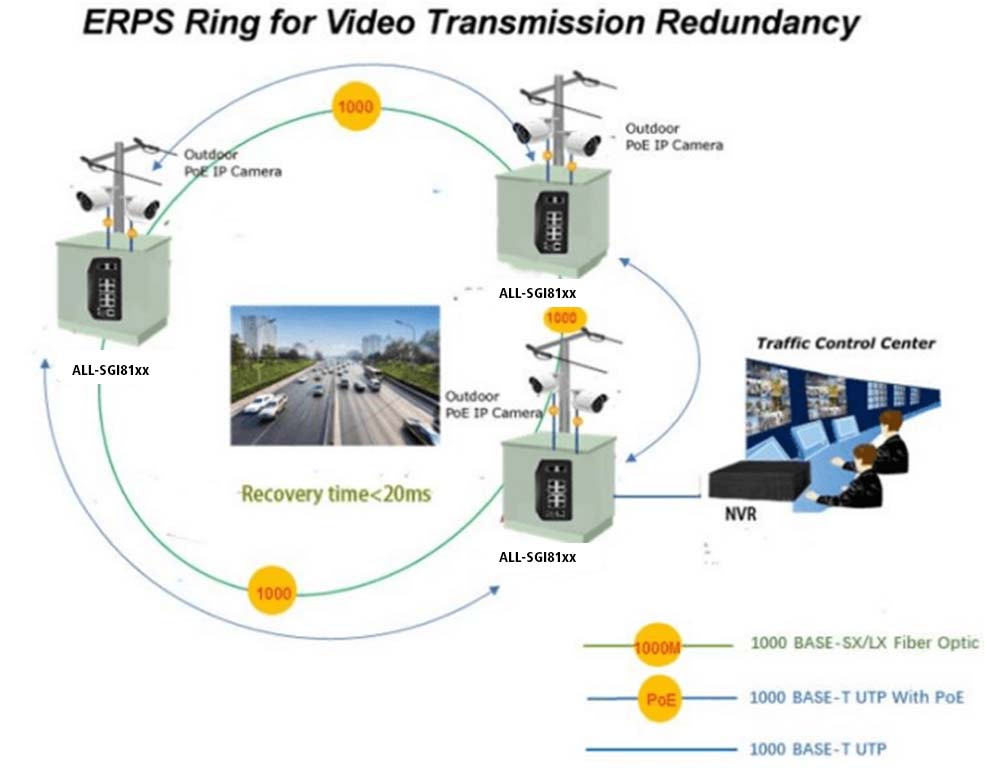 1588 Time Protocol for Industrial Computing Networks
The ALL-SGI8104v2PM is ideal for telecom and Carrier Ethernet applications, supporting MEF service delivery and timing over packet solutions for IEEE 1588 and synchronous Ethernet.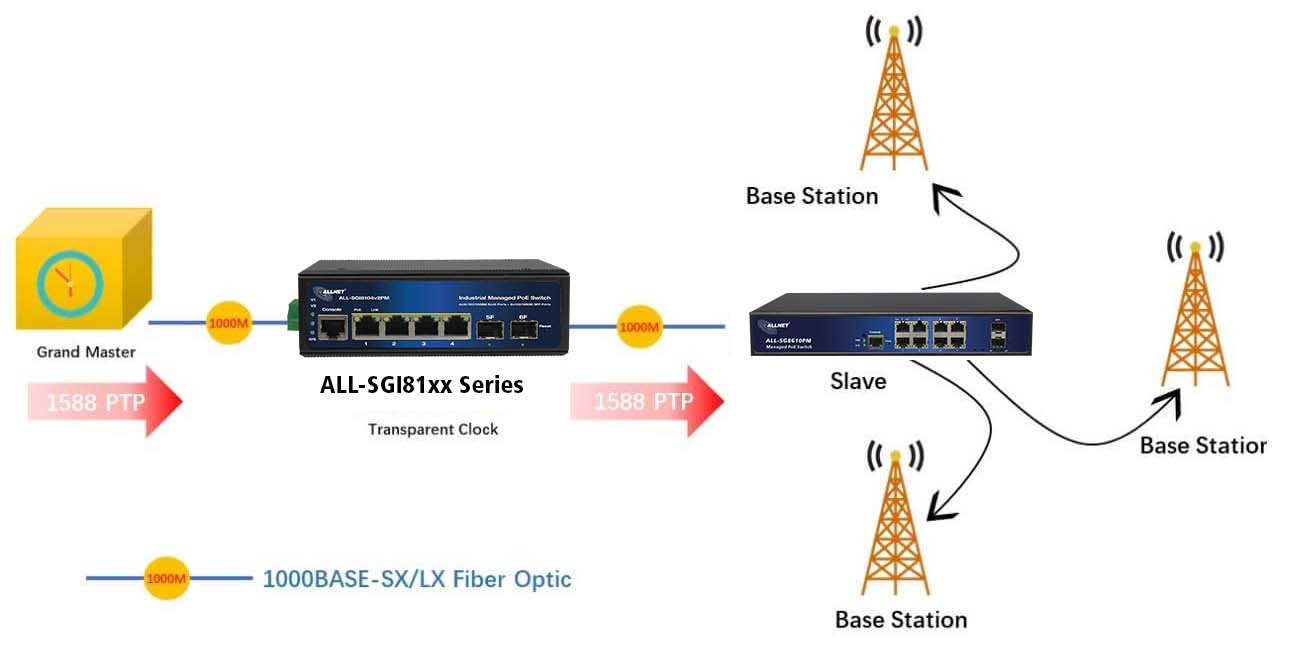 Strong Layer 2 Features
The ALL-SGI8104v2PM layer 2 Ethernet switch can be programmed for advanced Layer 2 switch management functions such as dynamic port link aggregation, 802.1Q tagged VLAN, Q-in-Q VLAN, private VLAN, Multiple Spanning Tree Protocol (MSTP), QoS, bandwidth control, IGMP snooping and MLD snooping. Via the aggregation of supporting ports, the ALL-SGI8104v2PM allows the operation of a high-speed trunk group that comes with multiple ports and supports fail-over as well.
Efficient and Various Management Methods
For efficient management, the ALL-SGI8104v2PM is equipped with console, Web and SNMP management interfaces.
With the built-in Web-based management interface, it offers an easy-to-use, platform-independent management and configuration facility.
For text-based management, it can be accessed via Telnet and the console port.
For standard-based monitor and management software, it offers SNMPv3 connection which encrypts the packet content at each session for secure remote management.
Intelligent PoE Switch SFP DDM Function
The ALL-SGI8104v2PM supports SFP-DDM (digital diagnostic monitor) function that greatly helps network administrator to easily monitor real-time parameters of the SFP transceivers, such as optical output power, optical input power, temperature, laser bias current, and transceiver supply voltage.
The technical equipment and the stable housing make the switch the ideal solution in the industrial area. Delivery without power supply - please order separately!
Technical Details:
Model
ALL-SGI8104v2PM
Copper Ports
4-10/100/1000BASE-T RJ45 auto-sensing ports
Fiber Ports
2-100/1000BASE-T SFP interfaces, supports 100/1000Mbps dual mode
PoE Ports
4-802.3af/802.3at PoE Injector Ports
Console Ports
1 x RS-232-to-RJ45 serial port (115200, 8, N, 1)
Switch Architecture
Store-and-Forward
Switch Fabric
12Gbps/non-blocking
Throughput
8.928Mpps @64 bytes
Address Table
8K entries
Share Data Buffer
4.1 Mb
Jumbo Frame
9216 Bytes
SDRAM
1Gb
Flash Memory
128Mb
Flow Control
IEEE 802.3x pause frame for full-duplex ; Back pressure for half-duplex
Reset Button
>2 sec.: Factory default and reset
Power Supply
48 ~ 57 VDC, 50/60Hz,Dual DC
PoE Standards
IEEE 802.3af Power over Ethernet/PSE

IEEE 802.3at Power over Ethernet Plus/PSE

PoE Power Supply Type
Per Port 52V DC, 300mA. Max. 15.4 watts (IEEE 802.3af)

Per Port 52V DC, 600mA. Max. 30 watts (IEEE 802.3at)

LED Indicators
Power: Green

Solid on–power work normal,off–power disconnected

System:Green

Blink–work normally, solid on–soft work abnormal, fast blink–soft upgrade

PoE: Yellow

Solid on–PoE work normally, Off–PoE doesn't work, Blink–PoE overload

10/100/1000T RJ45 Interfaces (Port 1 to Port 4): 1000 LNK/ACT (Green),

Blink–port connected with data transmission;

Solid on–port connected without data transmission

100/1000Mbps SFP Interfaces (Port 5 to Port 6): Green

Blink- port connected with data transmission;

Solid on- port connected without data transmission

EMC
Surge Immunity:6KV Per: IEC61000-4-5

ESD Protection: ESD Level 4 Per: IEC61000-4-2;EFT Level 4 Per: IEC61000-4-4

Dimension
145x112x47.2mm
Weight
0.6kg
Working Temperature
-40°C to 75°C
Storage Temperature
-40°C to 80°C
Operation Humidity
5% to 95%, non-condensing
MTBF
50,000hrs
Layer 2 functions
Port configuration
Auto-negotiation

Flow Control

Port Mirror: TX/RX/BOTH; Many-to-1 monitor

CPU Mirror

Traffic statistics

Link Aggregation
Static link aggregation

LACP(Dynamic Trunk/Static Trunk)

Algorithm based on Source/Destination MAC

Algorithm based on Source/Destination IP

MAC Table
Aging Time

Static MAC address

Dynamic MAC address management

VLAN
4094 Active VLANs

4094 VID

802.1Q Tag VLAN

Port VLAN

Protocol VLAN

MAC VLAN

Voice VLAN

802.1ad Q-in-Q tunneling

Private VLAN (Protected port)

GARP/GVRP

ACL
256ACLs

L2, L3 e L4

Time-based ACL

IP ACL

MAC ACL

MAC-IP ACL

User-Defined ACL

ICMPv6

Spanning tree
802.1D Spanning Tree Protocol (STP)

802.1w Rapid Spanning Tree Protocol (RSTP)

802.1s Multiple Spanning Tree Protocol (MSTP)

Loop Guard

Root Guard

TC-BPDU Guard

BPDU Guard

BPDU Filter

Ring Protection
<20ms G.8032 ERPS Ring

Fast Ring

ALLNET Ring, < 20ms

Multicast
256 groups

IGMP v1/v2/v3 Snooping, Fast Leave

MLD Snooping

Multicast VLAN

IGMP filter

MVR

Multicast Routing

QOS
8 mapping IDs to 8 level priority queues

CoS port-based

CoS 802.1p-based

CoS DSCP-based

Scheduling algorithms SP, WRR, SP+WRR

Storm Control (Broadcast, Multicast, Unknown Unicast)

Bandwidth control per port

SWRR, DWRR for Scheduling

Flow Redirect

Precedence

TOS

Rate Limiting(Ingress/Egress)

Stri Priority

Security Features
Port Security

MAC address filter

ARP Association (Manual, ARP scanning, DHCP snooping)

ARP Protection

AAA

DAI

DoS (Denial of Service)

Classification of packages based on: End.MAC, IP End, TCP / UDP Ports,

Protocol Type;

802.1x Authentication (port-based e MAC-based)

TACACS/TACACS+ Authentication

RADIUS Authentication

DHCP Filter

Guest VLAN

SSLv2/SSLv3/TLSv1

SSHv1/SSHv2

Restriction of WEB access based on: IP Address, And. MAC and Port;

Port Isolation

Loopback detection

Management
SNMP v1/v2c/v3 with Full Private MIBs

RMON 4 groups

WEB (HTTP/HTTPS)

CLI (Telnet, Console, SSHv1/v2)

Firmware upgrade via console/web/TFTP

Configuration Backup/Reload

Dual Firmware

LLDP

Configuration Export/Import

CDP Aware

OAM (IEEE802.3ah)

CFM (IEEE802.1ag)

sFlow

Telnet Client

Synchronization,

IEEE1588

Support IEEE1588v2 transparent clock
Other Features
DNS Client

DHCP Relay

DHCP Client

DHCP Snooping

DHCP Option 66

DHCP Option 67

DHCP Option 82

NTP/SNTP Client

UPNP

UDLD

PoE management
Total PoE power budget control

Per port PoE function enable/disable

PoE admin-mode control

PoE port power feeding priority

Per PoE port power limitation

PD classification detection

PD alive check

PoE schedule

Soft-reboot PoE Non-stop

Maintenance
Cable Diagnostics

Ping

SFP DDM (Digital Diagnostics Monitoring)

Thermal protection

System log (Local and Remote)

Memory and CPU Monitoring

Tracert/ Tracert 6
 Layer 3 functions
Static Routing
IPv4 Unicast: Static Routing (Software Base)

IPv6 Unicast: Static Routing (Software Base)

IPV6
IPv6 neighbor discovery (ND)

Path maximum transmission unit (MTU) discovery

Internet Control Message Protocol (ICMP) version 6

TCPv6/UDPv6

Ping6

Telnet(v6)

Http/Https

Interface IPV6

ACL IPV6
Produktmerkmale:
| | |
| --- | --- |
| Anzahl Ports PoE/LAN: | 4/0 |
| Belüftung Switch: | Lüfterlos |
| Einsatzort Switch: | Industrial DIN |
| LAN Geschwindigkeit: | 1Gbit/S |
| Management: | full managed |
| PoE Budget: | <200 Watt |
| PoE Port Leistung: | 30W at |
| SFP Geschwindigkeit: | SFP 1GBit |
| SFP Port Anzahl: | 2 |
Related links to "ALLNET Switch full managed industrial 4 Giga PoE/2SFP"
Available downloads: