Gerdes PrimuX 2S2M Server Controller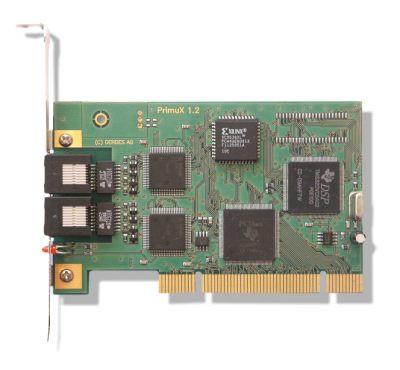 net price plus shipping costs
This product is not available at the moment. Delivery time upon request.
Einsatzgebiete Mit 60 Kanälen bietet sich diese Karte für Mehrwert-Dienstleisungen (0190...
more
Product information "Gerdes PrimuX 2S2M Server Controller"
Einsatzgebiete
Mit 60 Kanälen bietet sich diese Karte für Mehrwert-Dienstleisungen (0190 usw.) und Fax-Broadcast an. Außerdem lassen besondere Vermittlungsfunktionen zwischen den beiden Primärmultiplex-Anschlüssen Vermittlungsdienste zu (Call-through- und Callback-Dienste).
Leistungsmerkmale
Hochleistungs-Signalprozessor für geringe PC-Belastung und minimale Verzögerungen. Vermittlungsfunktionen zwischen den Anschlüssen ohne PC-Belastung. Bis zu 3 Karten pro PC problemlos betreibbar.
Anschluss
2 Primärmultiplex-Anschlüsse.
Es wird ein PCI-Steckplatz benötigt. Der PC muss über eine 3.3 Volt Spannungsversorgung verfügen (üblich bei moderneren PC's).
Treiber, CAPI
Windows 98, ME, 2000, XP
Linux
Dual-Mode CAPI 1.1 und 2.0
NDIS WAN MiniPort (für Internet- und WAN-Anbindung)
Virtuelle Modemtreiber
Tracer-Programm, Testprogramme
Dynamische Kanalbündelung und Datenkompression nach Windows-Standard
Multiadapterfähige Treiber. Es können sogar unterschiedliche PrimuX-Karten gleichzeitig betrieben werden.
Protokolle, Zusatzfunktionen
X.75, Transparent, HDLC transparent, V.110, T.70 NL, ISO 8208
Externes Protokoll DSS1 oder 1TR6.
CAPI Fax G3 (Software Fax). Zusätzlich Fax-Polling (Abruf und Faxserver)
Switching und Conferencing. Vollständige Unterstützung, auch controller-übergreifend.
Supplementary Services (z.B. Dreierkonferenz, Rufweiterschaltung).
Lieferumfang
PrimuX 2S2M
2 ISDN-Anschlusskabel mit losen Enden für Schraubverbindung
Treiber-CD
Bedienungsanleitung
Related links to "Gerdes PrimuX 2S2M Server Controller"
Available downloads: