Teltonika zbh. RMS Prepaid Lizenzen 12 Punkte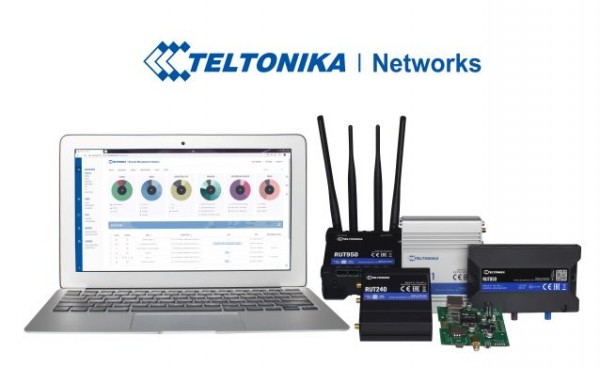 net priceplus shipping costs
This product is not available at the moment. Delivery time upon request.
Stock:

0

Order number:

184601

Vendors:

Teltonika

Hersteller Artikel-Nr.:

RMS_12

Gewicht:

0.001kg
Teltonika RMS Prepaid Lizenzen 12 Punkte (1 Punkt = 1 Router/1 Monat) zum Beispiel für 1...
more
Product information "Teltonika zbh. RMS Prepaid Lizenzen 12 Punkte"
Teltonika RMS Prepaid Lizenzen 12 Punkte (1 Punkt = 1 Router/1 Monat) zum Beispiel für 1 Router/12 Monate
Das Remote Management System (RMS) dient zur bequemen Überwachung und Verwaltung aller Teltonika-Netzwerkgeräte, einschließlich Router und Gateways der Serien RUT2XX, RUT8XX, RUT9XX, RUTX, TRB.
Beschreibung Mit dem Teltonika Remote Management System (RMS) können Sie Ihre Teltonika-Router und -Gateways, einschließlich aller Teltonika RUT- und Teltonika TRB-Geräte, bequem verwalten und überwachen. Das System ermöglicht es, Statusinformationen Ihrer Geräte sicher zu erfassen und deren Konfiguration zu ändern, auch wenn die Geräte keine öffentlichen IP-Adressen haben.
- EINHEITLICHE KONTROLLE Genießen Sie eine umfassende Lösung für die Verwaltung mehrerer Teltonika-Geräte von einer einzigen Plattform aus. Dies umfasst Remote-Befehlszeilen- und WebUI-Zugriff, Gerätefilteroptionen nach Modell, Firmware-Version, Verbindungsstatus, benutzerdefinierte Tags und vieles mehr.
- KEINE ÖFFENTLICHE IP ERFORDERLICH RMS ist ein Client-Server-basiertes System, das die Möglichkeit bietet, auch ohne Verwendung einer öffentlichen IP-Adresse remote auf Geräte zuzugreifen.
- FERNZUGANG ZU NICHT-TELTONIKA-GERÄTEN Fernzugriff auf andere Geräte, einschließlich Geräte, die nicht von Teltonika hergestellt werden. Wenn sich Ihr Teltonika-Gerät in RMS befindet, können damit Fernzugriffsverbindungen zu Geräten hergestellt werden, die mit dem privaten Netzwerk verbunden sind.
- FIRMWARE / BACKUP-UPDATES Verpassen Sie nicht verschiedene Verbesserungen und neue Funktionen, die mit neuen Firmwares geliefert werden. Mit RMS können Sie Hunderte von Geräten mit nur wenigen Klicks auf die neueste Firmware-Version aktualisieren.
- REALTIME ALERT SYSTEM Verwenden Sie E-Mail-Benachrichtigungen in Echtzeit, um über die Vorgänge mit Ihren Geräten auf dem Laufenden zu bleiben. Spezielle Warnungen können für verschiedene Ereignisse konfiguriert werden, z. B. die mobile Signalstärke, die unter einen bestimmten Schwellenwert fällt, Statusänderungen oder das Verlassen / Betreten eines definierten GPS-Geofence durch das Gerät.
- AKTIVITÄTSBERICHTE Richten Sie ein benutzerdefiniertes Berichtssystem ein, das Informationen zu vom Benutzer angeforderten Geräteparametern enthält. Berichte können regelmäßig oder für einen bestimmten Zeitraum erstellt werden. Alle generierten Berichte werden auf RMS-Servern gespeichert und können jederzeit für zukünftige Analysen heruntergeladen werden.
- STATISTICS DISPLAY CHARTS Verwenden Sie automatisch generierte Diagramme, um den Verlauf Ihrer Geräteaktivitäten zu überwachen. Diagramme verfolgen den Verlauf verschiedener Statusänderungen wie Gerätetemperatur, mobile Signalqualität und Datennutzung und stellen sicher, dass im Laufe der Zeit keine Informationen verloren gehen.
- GPS-GESCHICHTE Bleiben Sie immer anhand des Standortverlaufs darüber informiert, wo sich Ihre Geräte befinden und befanden. Sie können den Standort von sich bewegenden Geräten zu jedem Zeitpunkt anzeigen oder statische Standorte für Geräte einrichten, die stationär oder mit GPS nicht kompatibel sind, um die Verwaltung zu vereinfachen.
VERSUCHEN SIE RMS KOSTENLOS Jedes Teltonika Networking-Gerät bietet 1 Monat kostenlosen RMS-Service. Klicken Sie unten, um ein Konto zu erstellen und vollen Zugriff auf alle RMS-Funktionen zu erhalten! https://rms.teltonika.lt/register
Tutorial Video zum Hinzufügen eines Geräts zu RMS: https://www.youtube.com/watch?v=cFYt_y15czo
Related links to "Teltonika zbh. RMS Prepaid Lizenzen 12 Punkte"