ALLNET ALL3500 / IP Homeautomation Appliance, 4x Sensor-Port
ALLNET ALL3500 / IP Homeautomation Appliance, 4x Sensor-Ports The economical entry into the...
more
Product information "ALLNET ALL3500 / IP Homeautomation Appliance, 4x Sensor-Port"
ALLNET ALL3500 / IP Homeautomation Appliance, 4x Sensor-Ports
The economical entry into the home automation
The ALLNET ALL3500 Home Automation Appliance provides a solid and cost-effective platform for the implementation of control solutions based on measured data.

As the model ALL3418V2/ALL3419 based the ALL3500 on the new ALL5002 CPU board and
a GNU/Linux firmware.

Thus it is open to your own applications and all additional modules ALL3000/4000/5000 series can be operated with the ALL3500 central unit.
The ALL3500 can be conveniently read from anywhere via web interface, con gure and operate. The integrated XML interface allows for easy integration into complex
installations or proprietary software products for controlling and monitoring.
Controlling, measurement, regulation via network, Internet and Smartphone

Application examples:
Temperature monitoring in HACCP or alarm scenarios , as well as depending of alarm detection circuits
Climate control of a room by monitoring temperature and humidity, as well as needs-based control of heating and humidication.
Recognition of a crisis in mission critical areas and turn of alarms if you smell gas, ooding, smoke, etc.
Time-and humidity-controlled garden irrigation
Consumption-based circuit using external sensors such as ALL4950 power meter module
SNMP Modul
Compact, powerful, economical

The right platform for your home automation application
We are suceed in integrating a lot of functionality in a compact and cost-saving design in the ALL3500. This saves space and
cost, yet delivers impressive functionality. Four relays, sensor ports and contact interfaces are available. Thus the ALL3500 is
extremely versatile.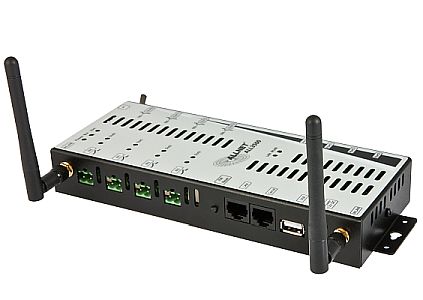 Sensors, actuators and switches
A wide productrange allows complex application
The ALL3500 central unit has four ports for connecting external sensors and actuators, and four relay outputs for switching any loads. In addition, the device has four contact inputs, eg can be used to connect push buttons and switches.
Thus, ambient conditions such as temperature, humidity, air pressure, and much more can capture, share and process, as well as switching processes via actuators or relays. This can be performed manually, time-controlled or depending of the detected values. 
Connectivity
With Ethernet and built-in WLAN easily accessible
The ALL3500 central unit is accessed via an IP address in the TCP / IP network. The values can be accessed via the web browser directly from the device, processed or sent periodically via email. An integrated XML interface is used for data retrieval and control via the Internet, bringing the ALL3500 can be integrated into an overall control solution.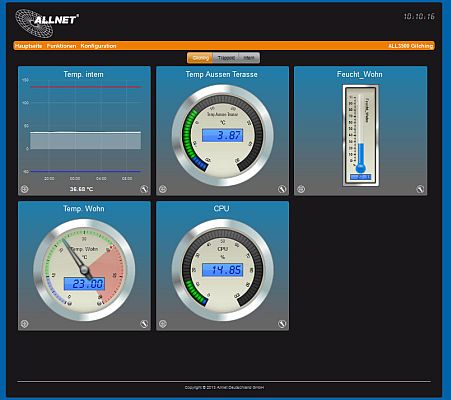 I2C-Bus
Use existing cable networks to connect sensors
To connect the measurement and control modules to the central units all ALLNET home automation products use a simple network cable (RJ45 connector, Cat. 5). For this purpose, an existing wired network such as the own network or phone wiring can be used. The maximum cable length between the central unit and module can be up to 100 meters. Here the modules are supplied with voltage by the CPU. A separate power source for each module is not necessary.
USB Port
Integrate external radio technologies
External sensors/actuators can for example be connected via a separate wireless USB stick with the ALL3500. The ALL3500 can recognize and process these sensors. The following technologies/manufacturers are already integrated in the ALL3500:
Technical Details:
Element

Specification

Interfaces:

4x RJ45 sensor modules

Network Interfaces:

1x RJ45 10/100Mbps

Switch relay:

4x potential-free (á 8A)

Contact Input:

4x for push buttons, switches, etc.

Wireless LAN:

Ralink RT3352 Chipset
2,4 GHz Wireless N

Safety: WEP 64/128bit, WPA, WPA2

Supported Standards:

IEEE 802.3
IEEE 802.3u
IEEE 802.11b/g/n

Additional Interfaces:

1x USB 2.0
1x Console

Power supply:

100~240 VAC, 50/60 Hz, 12V extern power supply

Power consumption:

<5 watt maximum

Housing:

Metal housing

Environment:

Temperature operating: 0 ~ 40 °C
Humidity operating: 10% ~ 85% (non-condensing)
Temperature storage: -20 ~ 60 °C
Humidity storage: 5% ~ 90% (non-condensing)

Mark:

CE, RoHS

Dimension:

220,4 x 80 x 30 mm (L x W x H) 

Weight:

400 grams (device incl. WLAN antenna and ALL3006 sensor)

Package content:

-ALLNET ALL3500
-ALLNET ALL3006 temperature sensor
-WLAN Antenna
-external power supply
-manual
Related links to "ALLNET ALL3500 / IP Homeautomation Appliance, 4x Sensor-Port"
Available downloads:
Downloads
DISCLAIMER_OF_WARRANTY
This Program is free software; you can redistribute it and/or modify it under the terms of the GNU General Public License as published by the Free Software Foundation; version 2 of the License.
This Program is distributed in the hope that it will be useful, but WITHOUT ANY WARRANTY; without even the implied warranty of MERCHANTABILITY or FITNESS FOR A PARTICULAR PURPOSE. See the GNU General Public License for more details.
You should have received a copy of the GNU General Public License along with this Program; if not, write to the Free Software Foundation, Inc., 59 Temple Place, Suite 330, Boston, MA 02111-1307 USA.
The full text of the GNU General Public License version 2 is included with the software distribution in the file LICENSE.GPLv2

NO WARRANTY
BECAUSE THE PROGRAM IS LICENSED FREE OF CHARGE, THERE IS NO WARRANTY FOR THE PROGRAM, TO THE EXTENT PERMITTED BY APPLICABLE LAW. EXCEPT WHEN OTHERWISE STATED IN WRITING THE COPYRIGHT HOLDERS AND/OR OTHER PARTIES PROVIDE THE PROGRAM "AS IS" WITHOUT WARRANTY OF ANY KIND, EITHER EXPRESSED OR IMPLIED, INCLUDING, BUT NOT LIMITED TO, THE IMPLIED WARRANTIES OF MERCHANTABILITY AND FITNESS FOR A PARTICULAR PURPOSE. THE ENTIRE RISK AS TO THE QUALITY AND PERFORMANCE OF THE PROGRAM IS WITH YOU. SHOULD THE PROGRAM PROVE DEFECTIVE, YOU ASSUME THE COST OF ALL NECESSARY SERVICING, REPAIR OR CORRECTION.

IN NO EVENT UNLESS REQUIRED BY APPLICABLE LAW OR AGREED TO IN WRITING WILL ANY COPYRIGHT HOLDER, OR ANY OTHER PARTY WHO MAY MODIFY AND/OR REDISTRIBUTE THE PROGRAM AS PERMITTED ABOVE, BE LIABLE TO YOU FOR DAMAGES, INCLUDING ANY GENERAL, SPECIAL, INCIDENTAL OR CONSEQUENTIAL DAMAGES ARISING OUT OF THE USE OR INABILITY TO USE THE PROGRAM (INCLUDING BUT NOT LIMITED TO LOSS OF DATA OR DATA BEING RENDERED INACCURATE OR LOSSES SUSTAINED BY YOU OR THIRD PARTIES OR A FAILURE OF THE PROGRAM TO OPERATE WITH ANY OTHER PROGRAMS), EVEN IF SUCH HOLDER OR OTHER PARTY HAS BEEN ADVISED OF THE POSSIBILITY OF SUCH DAMAGES.
Written Offer for Source Code
For binaries that you receive from ALLNET GmbH Computersysteme on physical media or within the download of the offered firmware that are licensed under any version of the GNU General Public License (GPL) or the GNU LGPL, you can receive a complete machine-readable copy of the source code by sending a written request to:
     ALLNET GmbH Computersysteme
     Maistrasse 2
     82110 Germering
Your request should include: (i) the name of the covered binary, (ii) the version number of the Allnet product containing the covered binary, (iii) your name, (iv) your company name (if applicable) and (v) your return mailing and email address (if available).
We may charge you a nominal fee to cover the cost of the media and distribution.
Your request must be sent within three (3) years of the date you received the GPL or LGPL covered code.
For your convenience, some or all of the source code may also be found at:
http://www.allnet.de/gpl.html
Software

Software
10.07.2017
ALL3500


Amazon Alexa Modul

 

 

 

ALLES WAS SIE DAFÜR BRAUCHEN, IST

ein ALLNET MSR Gerät, wie beispielsweise die ALL3500, inkl. konfigurierter Sensoren, sowie dem ALLNET Alexa Modul.

einen Amazon® Developer Account. Diesen kann man kostenlos unter https://developer.amazon.com/registrieren.
einen Amazon® AWS Account. Diesen kann man kostenlos unter https://aws.amazon.com/ registrieren.





 

 

Dokumentation

Dokumentation
10.07.2017
ALL3500


Amazon Alexa Skill-Anleitung.

Dokumentation
19.02.2014
ALL3500


Anleitung Anzeige Wetter Widget mit SSL Verschüsselung

Dokumentation
13.11.2013
ALL3500


Manual (Español)

Dokumentation
04.09.2013
ALL3500


Appliance_Powermeter_Sonsoren_Matrix_aktuell

Dokumentation
18.02.2013
ALL3500


Handbuch (Deutsch)

Dokumentation
18.02.2013
ALL3500


Weboberfläche (Screenshots)